Krissy Schoenfeldt-Vavrek - Vocals (Yodeling)/ Flute / Cowbells / Schuhplattler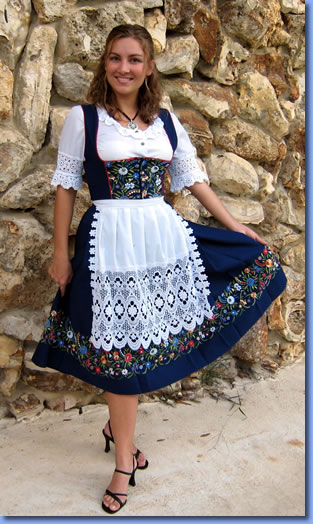 Krissy graduated from the

University of Central Florida in Orlando

with her Bachelor of Arts in Music. Her parents brought her to the German American Club where she started dancing with the Edelweiss Jugend Schuhplattler of

Miami

at the age of 3. Krissy went into piano lessons at the age of 5, and always enjoyed singing the little ditties while she was playing. She went on to play flute in band at the middle school. Although she enjoyed flute and continued it through high school band where she was a drum major, Krissy's true passion is singing. When she was a toddler, she would ask to sit in on her father's band rehearsals to watch female vocalists sing and then go dancing around the house with all the new tunes she would learn. In high school she found she loved choir and singing so much that she majored in Music at UCF with voice as her primary instrument. There she learned to sing in six languages. Meanwhile, she helped work her way through college playing organ at a church and teaching piano lessons. Her mother would take her to many of her dad's performances and Krissy fell in love with the Bavarian culture. The first polka she can remember dancing was with her dad was when she was about six and he was dancing so fast in circles that her feet just stopped touching the ground and she was flying over the dance floor. She still loves to get in a polka with dad when she can, but now her feet stay on the ground. Although now her father jests that she "steals the show", he was hesitant to put her on stage. Much pleading by her mother finally got her singing with the Swinging Bavarians German Band for the first time as a sophomore in high school. She has been a member of the Swinging Bavarians for 10 years now. She took up yodeling by accident, it came very easily to her with the singing and when Bill heard it, he insisted it would go in the show. Always a little disappointed that she chose no instruments which she could actually play in dad's band, Bill got her a set of cowbells that she now plays. Currently, she has followed in both parents' footsteps, she is a Real Estate Broker as well as a Musician.