Katrina Schoenfeldt - Vocals / Trumpet / Schuhplattler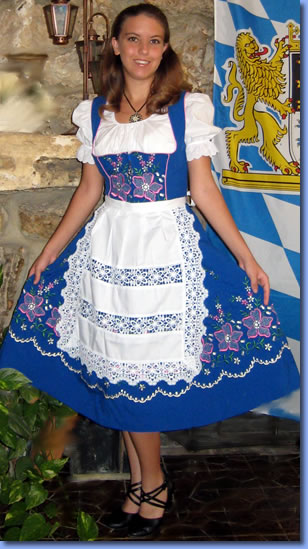 The youngest of the three children, Katrina was also introduced to the German Bavarian culture at a young age. She also started German dancing at the age of 3 with the Edelweiss Jugend Schuhplattler of

Miami

, Florida. Always wanting to be like her older siblings, she took up trumpet in middle school band and played through high school. Taking up singing in high school, she found she enjoyed singing harmonies to her sister. During her first two years of college, she performed in the "Variations" musical theatre dance group and trumpet with the college band. Katrina recently graduated with her Bachelors Degree in Event Management from the

University of Central Florida

in Orlando so she can now organize the types of events she performs in, hopefully even some Oktoberfests! Although she enjoys trumpet and singing with the Swinging Bavarians German Band, her true passion is dancing. She has developed her talent in many styles of ballroom dancing including polka, tango, foxtrot, cha cha, swing, and more. So, if you're ever looking to dance a polka or anything else, she'd be thrilled!